Das gro?e Interesse an sozialen Netzwerken und Video im Internet best?tigt das hohe Potential, dass das soziale Web mit sich bringt. Andererseits lenkt es jedoch ab von dem M?glichkeiten, das in sozialen Anwendungen f?r den Bereich der Unternehmensprozesse und Unternehmenskommunikation steckt. So merkte bereits 2006 Ray Lane von Oracle an
"All these things that are thought to be consumer services are coming into the enterprise".
In den USA vollziehen Unternehmen bereits diesen Schritt. Laut dem Dartmouth Center for Marketing Research, MA, weist Inc. 500 Index der schnellst wachsenden Unternehmen wei?t dort einen Anteil von 39% Unternehmensblogs (2007: 19%) aus. Selbst wenn ein dort zu beobachtendes Wachstum um 20% beim Einsatz von Video innerhalb der Unternehmensabläufe auf 45% dieser Unternehmen nicht direkt übertragbar auf hiesige Marktverh?ltnisse sein muss, sehen wir zumindest einen deutlichen Indikator f?r das Gesamtpotential. So prognostiziert Forrester zb. für das Jahr 2013 einen Weltmarkt von 4.6 Mrd US$ f?r Unternehmensanwendungen basierend auf Web 2.0 Technologien.
Der Hype-Zyklus neuer Technologien
Gartner beschäftigt sich in einer Studie mit dem Hype-Zyklus neuer Technologien. Hier heisst es, die Einf?hrung von Web 2.0-Anwendungen ist nicht gleichzustellen mit der Zufriedenheit.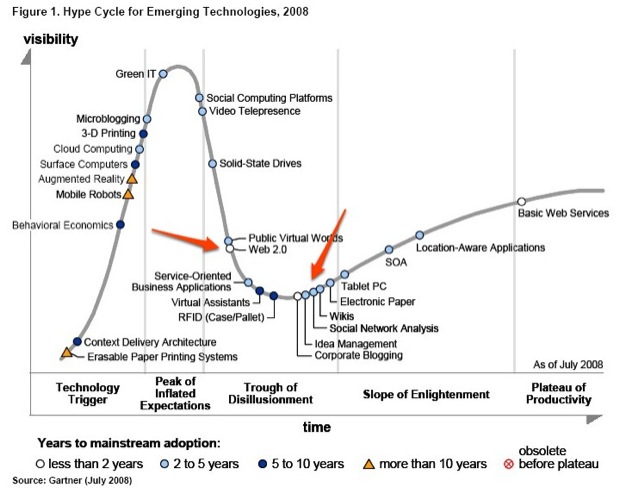 Das Papier sagt 27 Technolgietrends voraus, die sich mittelfristig in Unternehmen etablieren werden. Acht davon sollen sich besonders stark auf Unternehmen auswirken. Dazu geh?ren vor allem: Green IT, Web 2.0, Soziale Netzwerke, Cloud Computing, Virtuelle Welten, Videoconferencing und Microblogging.
Viele der Technologien m?ssen allerdings erst von den Endkonsumenten erlernt werden, bevor sie im Unternehmen angewendet werden. Firmen sammeln Erfahrung im Einsatz der Technologien, bevor sie den Erfolg und die kulturellen Auswirkungen sp?hren werden. Jackie Fenn von Gartner meint:
Later — in between two and five years — cloud computing and service-oriented architecture (SOA), which is moving up the Slope of Enlightenment, will deliver transformation in terms of driving deep changes in the role and capabilities of IT. Finally, public virtual worlds, which are suffering from disillusionment after their peak of hype in 2007, will in the long term represent an important media channel to support and build broader communities of interest.